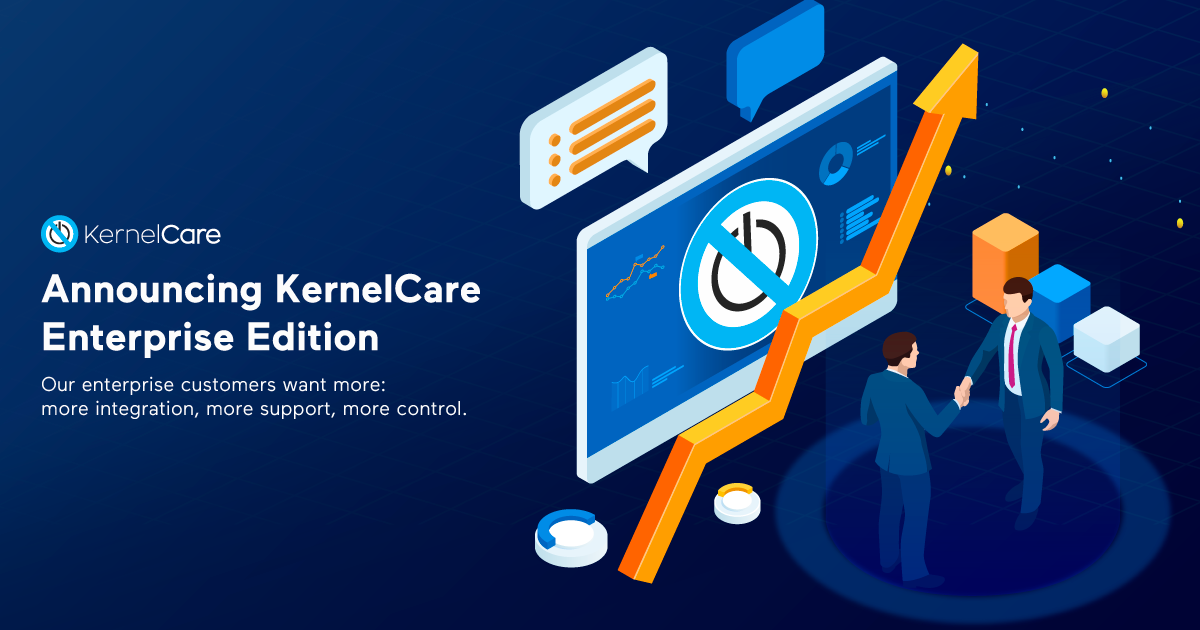 Our enterprise customers want more: more integration, more support, more control.
That's why we're thrilled to announce the launch of KernelCare Enterprise, a new member of the KernelCare family specially tailored for companies with 1000 servers or more.
It is at this number of servers that the burden of Linux kernel patching becomes more than just an irritation.
Keeping servers safe, keeping them secure and compliant, becomes a full-time job, one that can't be left to chance, one that must be fully automated and fully supported.
To do that, you need a live patching tool that integrates with automation tools and vulnerability scanners, one that is supported with the latest patches, and one that lets you decide what patches are rolled out across your organization.
KernelCare Enterprise does this. Here's how:
More Integration: KernelCare Enterprise comes ready to integrate with automation tools, (Ansible, Chef, Puppet), and vulnerability scanners (Nessus, Qualys, Rapid7).
More Support: With KernelCare Enterprise, you get priority support, 24 hours a day, 365 days a year.
More Control: You take control, with our ePortal server, a configurable patch server that runs inside your firewall, serving secure patches throughout your organization, audited by you, managed by you, supplied by us.
Contact us for your Enterprise quote directly: sales@kernelcare.com
Big companies deserve big ideas. KernelCare Enterprise delivers.