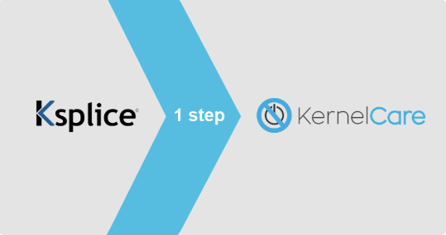 Ksplice is a technology that updates kernels with important security patches without the need to reboot. After its acquisition by Oracle, it is now offered as part of the Oracle Linux Premier Support. KernelCare is distribution-agnostic and supports Oracle Linux kernels, as well as CentOS, CloudLinux OS, Debian, RedHat, Virtuozzo, and others. Many customers come to us wanting to switch from legacy Ksplice to KernelCare.
The typical process is simple and straightforward:
Uninstall Ksplice
Install KernelCare
Relax
Can it be even simpler? Of course it can, because the above forces you to figure out how to uninstall Ksplice, and we don't want you to go that far! So, we have created a script instead. All you have to do is run it and not only it will make sure Ksplice is fully uninstalled, it will also install KernelCare for you in one shot. All without a reboot!
Download and run this script:
wget https://downloads.kernelcare.com/ksplice2kcare
Run the command:
bash ksplice2kcare [YOUR KERNELCARE KEY]
If you are using IP based licenses, run:
bash ksplice2kcare IP


The script will check for two letters "IP", and assume IP based license in this case.
The complete log file can be found at /var/log/ksplice2kcare.com
Full documentation is available here.
Happy Converting!!!
About KernelCare
KernelCare is a live patching system that patches Linux kernel vulnerabilities automatically, with no reboots. It's used on over 300,000 servers, and has been used to patch servers running for 6+ years. It works with all major Linux distributions, such as RHEL, CentOS, Amazon Linux, and Ubuntu. It also interoperates with common vulnerability scanners such as Nessus, Tenable, Rapid7, and Qualys. To talk with a consultant about how KernelCare might meet your enterprise's specific needs, contact us directly at sales@kernelcare.com.